1-For a better paint job, you need to Slosh your brush in whatever solvent you'll be using at the end of the day to clean the brush. You'll want the bristles to be conditioned so they'll be easier to clean later when you're done.
2 – WRAP THE BRUSH AND/OR ROLLER
If you're looking to get out of cleaning your brush or roller at the end of the day, but you know that you're going to be using it again the next day or in the very near future,

wrap the brush or the roller tightly in a plastic bag and put it in the freezer.

When you're ready to start painting again, the hardened paint will soften once it comes into contact with fresh paint.

The freezer will keep the color from fading and preserve the texture of the paint.Thus you will achieve a better paint job in the process.
3 – LATEX GLOVES OR LOTION
Latex gloves are ideal for keeping your hands clean and accomplishing a better paint job. The thin texture makes it easier to handle and easier to dispose if you need to work on something else (i.e. move furniture, mix another color, change rollers, etc.).

If you're allergic to latex gloves, try applying a thick application of hand lotion.

Once the lotion dries, it will create a layer on your skin that is easy to clean and will also prevent paint from getting embedded into the cracks and prints of your skin.
4 – WET EDGE
Always keep a wet edge as you paint, and work away from the wet edge in order to achieve a better paint job.

If you paint over a dry edge, you will get overlap marks.
5 – AVOID CHEAP ROLLER COVERS AND BRUSHES
This one is important! Cheap roller covers leave "fuzz" on the wall. Cheap brushes leave streaky brush marks,

Avoid those multi-packs of rollers.A professional paint job will resulted in professional tools

Sure 10 for a dollar sounds like a bargain, but I'm a strong believer of the motto "you get what you pay for".

You buy cheap and you will not have a better paint job.Your final product will look cheap. Pay the few extra cents and mark my words, it'll be worth it!
6 – TEST FOR LOOSE PAINT
Test the paint on the surface first. Even before you buy the paint, ask your paint dealer for a sample for you to test out before making the full commitment.

Most times paints on shelves are aged than those that are behind the counter. The quality paint will affect your paint job.

In regard to loose paint from a previous application, test the surface by applying a strip of duct tape to the existing painted surface and rip it off.

If flakes of paint more than microscopic size comes off, you may need to scrape and sand the surface before getting involved in a new paint project.

Prepping your surface correctly will result in an excellent paint job.
7 – LOW-STICK MASKING TAPE
Better known as "blue tape", this tape comes off easier and doesn't peel off primer or existing paint. Blue tape alone will save you at least an hour of frustration over the old style beige masking tape.
8 – REIN IN YOUR PAINT CAN OPENER
Those little metal key paint can openers always seem to get lost in the shuffle. If you loose your paint key, try a flat head screwdriver or butter knife. It work's just as good.
9 – PAINTING PROCESS
Make sure that you tackle a room in this order:         
Ceiling

Walls

Trim

Cabinets

Doors
10 – STRIP AWAY THE TAPE
Once you've finished your  paint job procedure, allow your paint to dry well.

After a few hours, you'll be able to peel away the strips of tape from around the edges of your perimeter.

Make sure when peeling the tape, that you peel away at an angle, that way any paint that may have been painted on doesn't end up peeling the paint of the wall.

Congratulation!!! You have just earned your certificate in mastering a better paint job!!
$0.99
Buy 1, get 1 30% off

More colors
+$1.99 shipping 
Waterproof Permanent Paint Marker Pen for Car Tyre Tire Tread Rubber Metal pen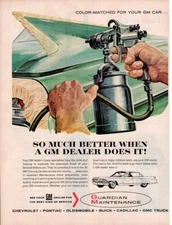 Pre-Owned
$9.95
Top Rated Plus
+$4.00 shipping
Free Returns
Beautiful old Magazine ad Print advertisement :  General Motors GM