There are different types of boilers or should I say Heating Systems.
Steam: This heating system is Read More
 Hydronic heating system:Read More
 CLICK ON THE CONTACT CATEGORY ON HOME PAGE. POSE YOUR QUESTIONS AND WE WILL E-MAIL YOU OR ANSWER YOUR QUESTIONS. 
FAQ
My gas heating system flame goes out and it's not relighting.
Universal thermocouple 

Includes adapter fittings 36-inch length Fits most models For furnaces, boilers, water heaters, and space heaters.
Comes Ready to Use with Butane inside; Reliable, Durable and Safe; 100 % Quality Inspected 

Easy to Operate; with conveniently located Child Resistant Buttons Adjustable Flame to fulfil all your Lighting needs from Candle to Barbeque as well as your gas heating system. Extra Large Fuel Storage for Longer Usage; Transparent Fuel Level Window Satisfaction Guarantee:-If our Lighter fails to Perform to your Satisfaction, It will be replaced at No Cost, Return the Lighter with Description of Failure, No Questions Asked.
Components of a Boiler Systems.
1. Boiler Feedwater System. Water that converts into steam by steam boilers system called Feedwater & system that regulates feed water called …

2. Boiler Steam heating System. Steam System is a kind of main controlling system of boilers process. Steam Systems are responsible to collect & control …

3. Boilers Fuel System. Fueling is the heart of boilers process & fuel system consists of all the necessary components and equipment to feed fu
SIMPLE DIAGRAM: STEAM HEATING SYSTEM
Norm's system uses a large homemade solar heat storage and drain back tank to provide solar space heating and domestic water heating for his home in Maine.  The system integrates the solar heating with a boiler that provides the space and water heating functions when the solar water is not hot enough.

The tank, plumbing and heat exchangers are very nicely done and provide a lot of good ideas and construction details.
Its also a good example of getting professional help with some parts of the system while doing the rest yourself.
Overview
The overall design of the heat distribution system was done by Northeast Radiant Technologies of Gardiner, Maine.  One facet of their business caters to DIYers.  They also made suggestions on boiler specs that were passed on to George Phelps of Gilman Plumbing and Heating of Newport, Maine.  George worked with Quincy Hydronic Technology of Portsmouth, New Hampshire.

Installed system with boiler at upper left.
This system combines a 550 gallon drainback solar tank combined with a conventional propane fired boiler (Biasi Riva Plus).  The solar tank has two 60′ copper coils to heat domestic hot water and two 90′ coils for space heating.  Either part of the system can operate independently of the other or they can work together.  A temperature sensor in the tank is attached to a relay that cuts power to the boiler any time that the tank temperature is greater than 125 F.Read More
Click on pictures for full size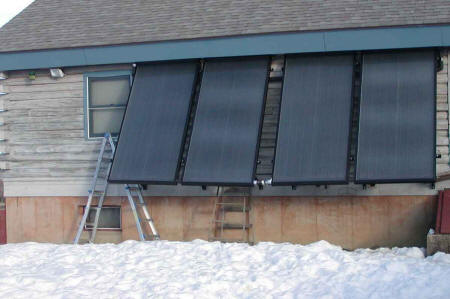 The four Sun Earth collectors
Read More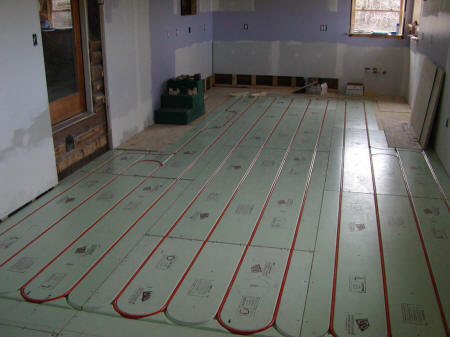 Warmboard radiant floor heating.
System Schematic
(Click on schematic for full size)
System schematic diagram As shown in the schematic, all items in green are parts of the space heating side of the system and the items in red are part of the domestic hot water side.Read More
VARIOUS HEATING SYSTEM IN RETROSPECT
You have now seen the various diagrams of different heating system. I will now show you photos with tags respectively, so you will recognize one when you see it.
SPLIT CENTRAL AIR COOLING/HEATING SYSTEM (HVAC)
  A central air conditioner (or heat pump) is either a split-cooling heating system unit or a packaged unit. The majority of consumers have split systems in their homes. Read More
SINGLE FORCE AIR HEATING SYSTEM
This heating system is similar to central air but missing the outside and roof unit.( condenser and compressor). However, the principles of operations are the same without the cooling.Read More
Hydronics is the use of a liquid heat-transfer medium in heating and cooling systems. The working fluid is typically water, glycol, or mineral oil.Read More
In steam heating systems, a boiler furnace heats water by means of a gas or oil-fired burner and turns it into steam. The steam travels through pipes to radiators or convectors, which give off heat and warm the room.Read More
Steam Heating Systems: Cons
There is a reason gas steam boilers aren't on the radar for most homeowners when it comes to updating their home heating system.Read More
Baseboard heating really refers to two separate kinds of heating systems. Electric baseboard heaters are individual units that heat a house room-by-room. They require no central heating and no expensive duct work. They are less efficient than most central heating systems, but use principles of radiation and air flow to work better than most other space heating units.
Electric Baseboard Heaters
Electric baseboard heaters use electric resistance to provide their own kind of baseboard heating. Cables inside the heating unit warm the air, pushing it out of the unit.Read More
Hot water baseboard heaters

(also called hydronic baseboard heaters) use central heating, but channel hot water through pipes to individual baseboardRead More